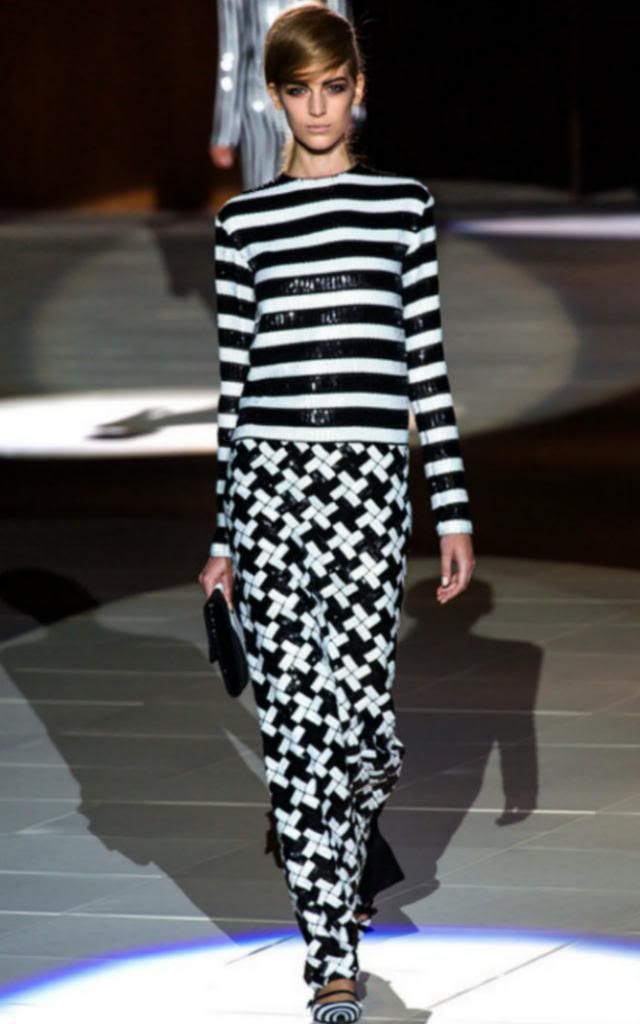 I ADORE monochrome tones of fabric, they represent vibrancy and a beautiful contrast of colour - polar opposites DO attract. Marc Jacobs has come back for his latest season collection with a 'bang'. The strong layering patterns give his pieces structure and depth, with such a visual "in-your-face" impact that you defiantly wouldn't miss it in a crowd. This collection represents the strength of SIMPLICITY.
There are no heavily embellished pieces or insanely-cut patterns sewn together, just simple long sleeved tops, trousers, suit jackets and skirts. There isn't a vast array of colours neither; with black, white and cherry being the primal tones used. It sounds so easy - just take a simple top and add simple stripes in a simple monotone shade and et voila - you have a beautiful, strong, empowering collection. I also really like the ode-to-androgynous hair and make-up used on the models - the "boy" look is defiantly gaining more and more popularity for shows and it reminds me of the sixties Warholian era.
Again, Jacobs has gone and delivered the goods. Bravo!